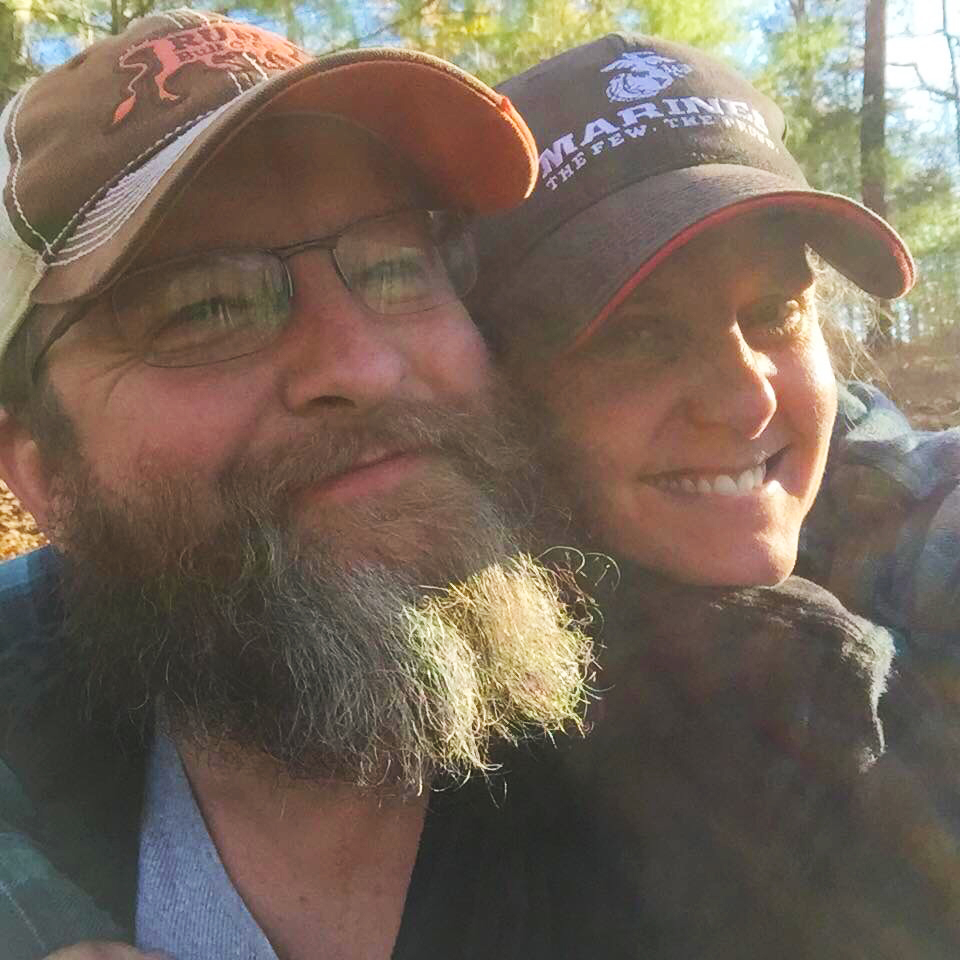 Are you looking for the real deal - rustic cabin in the woods on a homestead? A place to seriously unplug and unwind from everyday life? Look no further. Five private, custom built, family owned cabins situated on 40 acres of mixed forest and farm. All have fully equipped kitchens, private bathrooms, common living areas, private backyards with outdoor grills, fire pits & picnic tables. All have screened porches with bench swings with mountain sunset views. All linens provided and value added amenities. Family and dog friendly. Farm tours are available - request your tour during your stay! Fresh eggs, chicken, and homemade, take and bake comfort food options available on site to ease the stress of vacation menu planning.
Mountainside Cabins is located in the heart of the Appalachian and Blue Ridge Mountains - surrounded by Pisgah and Cherokee National Forests in Western North Carolina. Ken and Amy live and work on site and look forward to welcoming you during your stay!
There are many things to see and do in Madison County, NC. Venture to the town of Hot Springs - it doesn't have a stop light! The Appalachian Trail runs right through town. Enjoy the natural hot mineral baths at the Hot Springs Resort and Spa. Spend your days chilling and exploring the great outdoors, or if its a rainy day, enjoy a lazy day in the cabin listening to the rain on the tin roof.
Farmstead / Homestead info:
Our homestead started a few years ago with 6 chickens. 2 bantam roosters, Production Red, Australorp, Americana, and a Rhode Island Red. Since then, through our local feed store, our own incubators, and a few hatcheries we are at about 100 (or more) birds at any given time. We raise different breeds for different purposes. We usually have several groups of meat birds growing daily on fresh pasture throughout the spring/summer/fall. We have many breeds of free range laying hens that provide a wide variety of colored eggs. We raise cornish cross chickens, and pekin ducks for meat. In addition to the poultry, we have several pigs, geese, sheep and goats along with our dog and many cats.
Farmstead tours are available!
Be sure to make an appointment for a guided tour. We will show you our animals, what we do, and send you home with fresh chicken and eggs - message for more information.
We started a lavender garden in July of 2020 with 100 starts. They were planted in a temporary planting bed until the fall when they were moved to a spot in our yard. There are now approximately 88 growing plants that were harvested fully twice in their first year. The plan is to replant these 88 along the road up to our house and spread them out as well as make more starts so that we can add more and keep reducing the amount of grass we have to cut.
We have been working on vegetable gardens year after year, kinda on the side, but so far have not done too well with them - lol! Maybe one year we will figure that one out...but one thing at a time...
Food / handmade / craft info:
We offer fresh eggs, chicken, local lavender infused honey, fire cider, local coffee, and various, made from scratch, take and bake items from our home kitchen. Some are frozen in quarts and others canned. Great for quick homemade meals while on vacation or to take home with you!
Hiker info:
The AT runs right through Hot Springs and it is the first town that through hikers hit on their start in GA. There are a lot of folks that do section hiking as well. With that comes transportation. How do hikers get to where they need to go and back? We offer rides to and from Hot Springs to Mountainside Cabins. Bluff Mountain Outfitters in Hot Springs offers rides to other popular section hiking places such as Max Patch. With both options, it has worked for many hikers to stay at Mountainside with local transportation assistance.
Rafting/Tubing/Kayaking info:
We are in the French Broad River basin. The river goes through town and there are places that offer rafting and tubing in the area. If you have your own kayak there are places to put in and take out nearby for section 10.
Venue info:
We have had many events at Mountainside over the past few years with family gatherings, church events and weddings.
If you are looking for a place to host an event - let us know. We can work with you through your ideas and see if Mountainside would be a good fit.
There are several outdoor areas that would work great for a small wedding ceremony. There are also beautiful places to take photos all around the property for engagement photos.
Things to do in the area by season:
Winter
Christmas tree farm
Hot Springs Christmas Parade
Skiing / Snow tubing


Spring
Synchronous fireflies
Hot Springs Trailfest
Bluff Mountain Festival
French Broad River Festival
Summer
Rafting
Tubing
Kayaking​​​​​​​
4th of July Fireworks
Fall
Leaf season
Rafting
Tubing
Kayaking
Year Round
Hiking
Fishing
Horseback riding
Shopping local artisans / antiques / outdoor gear / local food
Dining at local restaurants